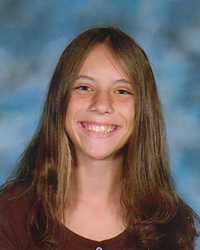 Mary Collins
Arlington Heights South
Principal: Dr. Linda Klobucher
Mary Collins is from South Middle School and proud of it. Mary isn't afraid of sounding corny when she says that - she thinks it's more important to let the world know that she's proud of her school and strives every day to represent it.
"If students from other schools do not know anything about me other than 'South' on my jersey, what they see me say or do is what they will think all kids from South Middle School say and do," Mary writes. "When I compete in a cross country meet or a speech contest, I am conscious that my attitude and sportsmanship set an example for all South students."
Although she earned all A's on her 7th and 8th grade report cards and citations for excellence and outstanding achievement in five different subjects, qualified for state in the long jump and 4x200 relay in track and field, won awards for her teamwork, and took 1st place in speech contests for monologue, improv duet and duet acting, Mary still counts winning her school's Cardinal Character Counts Award as her highest achievement. "This was a huge compliment," Mary says. Why does she think she won? "I try to give my best effort with school work and activities, as well as be kind to those around me."
Mary hopes to attend Lawrence, Princeton or Notre Dame University to become a teacher and coach. Mary notes that her soccer coach, Stein Garcia, has set the bar high, expecting 100% effort while still remaining positive and humble, and that is an example she hopes to follow in her own career.
Mary is the 2010 Scholar Attitude Award recipient from Board of Directors Division A.