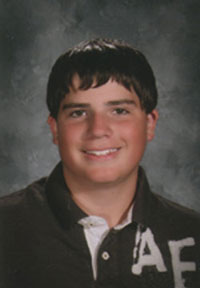 Lucas Diller
Forrest Prairie Central
Principal: Mr. Dan Vaughan
Not every junior high school student knows what they would like to do after they finish their schooling but Lucas Diller, the 2008 Scholar Attitude Award winner from Board of Directors Division E is focused on his career.
The 8th grader who attends Forrest Prairie Central Junior High School plans on becoming a teacher-coach and then move into school administration. Lucas understands the influence a teacher-coach can have on a young person. Other than a member of his family, the person he admires most is his own junior high coach, Tim McGuire. "Through my two years in junior high he has taught, guided and inspired me in the classroom and on the playing field," Lucas wrote. "I respect him for what he has accomplished in life. It is because of him that I have decided I would like to be a teacher and coach and follow in his footsteps. I feel that a lot of the things I have learned from him I can use when I reach that goal."
Lucas has been on the school baseball and basketball teams in both 7th and 8th grades. Likewise, he has been on the scholastic bowl team both years and has been a member of student council those years, serving as its president this year.
He is most proud of being chosen student council president. Classmates elect students to the council and the council advisors select the president. The vote of his peers told Lucas that they had faith in him to do a good job as an officer, and his selection as president showed the advisors felt he has the leadership skills "to head the organization in my school that is the most active and does the most for our school and communities that make up the district."
As a member of the scholastic bowl team in 7th grade, Lucas won the team's award for most questions answered in a match. This year he won the Hawk Hustle Award in baseball. This year he has been named both the student and athlete of the week. He has been on the High Honor Roll every grading period the past two years. Outside of school he is involved with his church as a lector, in its youth group and as a youth volunteer for the local Knights of Columbus. He also has served the Prairie Central High School baseball team as a manager the past two years.
If he had the opportunity to change anything he would eliminate terrorism from the world. "In my mind it is the single most senseless form of destruction in our lives," he wrote. "With the absence of terrorism, the world would move a lot closer to having peace throughout all areas. I feel it is unfair that so many innocent people are affected by terrorism."
Lucas plans to participate in baseball, basketball, student senate and CAPTAINS in high school. His first choice for college is the University of Illinois but knows Illinois State University has an excellent program in education.