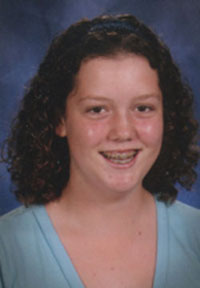 Laine Dohleman
Pontiac St. Mary's
Principal: Mrs. Sharon Warfield
Laine Dohleman's plate is full. A look at what this 8th grader has accomplished while attending Pontiac St. Mary's School shows how full it is and why she was named the 2008 Scholar Attitude Award winner from Board of Directors Division E.
The athletic portion of her plate includes 2 years on the softball team, 2 years on the basketball team and 2 years on the volleyball team. The St. Mary's 8th grade team this year qualified for the Class 1A state final. In the activity portion of her plate there is 2 years on the speech team, 2 years in the choir, 2 years on the math team, 2 years on the scholastic bowl team and 2 years in student council. Despite all of these extra curricular activities, she still excels in the classroom, earning High Honor Roll status since sixth grade.
So where does this ability to do so many things come from? It has to be the person she admires most---her dad. "One reason is he is a very hard worker, and always does his best in whatever he does," she wrote. "Another reason is that he has shown me how to love and trust people, and to be passionate about everything I do. The biggest reason I admire my dad is he is so supportive of me. He helps me think through choices and supports my decisions, even if he doesn't always agree with what I choose to do."
As a three-sport competitor, Laine has played a lot of games and has seen the win at all costs approach to athletics. She pinpoints the essence of sportsmanship in her essay. "My definition of good sportsmanship is one word. That one word is respect. When you display all the qualities of good sportsmanship, you show respect for yourself, your opponents, and for the spirit of the game. The value of sportsmanship is measured in terms of the amount of respect an individual gives to other people and the amount of respect other people give to that individual. That being said, I believe the true value of sportsmanship is not measurable, it's a characteristic to be valued. Good sportsmanship is priceless."
Her plans for high school include student council, basketball, chorus, scholastic bowl and CAPTAINS (an organization that promotes drug and alcohol free life styles).
The one change in the world that she would make would be to allow all people the many freedoms and choices we Americans are privileged to use everyday. "And I would wish that we would all have the gratitude to go with them," she wrote.