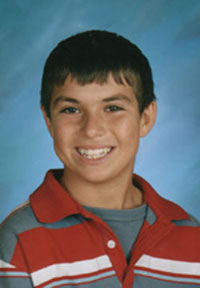 Blake Winkler
Frankfort Hickory Creek
Principal: Mr. Kevin Suchinski
Some people are natural leaders and athletes, but Blake Winkler, an 8th grade student at Frankfort Hickory Creek Middle School, truly is one who combines being a leader within his athletic accomplishments. He is the 2008 Scholar Attitude Award winner from Board of Directors Division D.
At school he has been on the basketball team since sixth grade. Outside of school he has been the quarterback of the Frankfort Falcons football team and a member of the Frankfort Thunder traveling baseball team. He also is a member of the Fellowship of Christian Athletes. In sixth grade Blake was on the school track team, played first chair tenor saxophone in the band and competed in Robotics. In the classroom, he has earned High Honor Roll every trimester since sixth grade. He also owns his own snow shoveling business in the winter and lawn mowing business the rest of the year.
The single feat that he is most proud of was being the recipient of the 2007 Thunder Bird award for the Frankfort Falcons team. "The Thunder Bird award is given to the most valuable player showing excellence and perseverance on and off the field," he wrote. "When they called my name I felt so proud. I gave a little speech after receiving the award which wasn't a big deal, but as I walked off the stage I knew I would never forget the moment."
Blake is passionate about sports and has high expectations for a career in athletics. His goal is to play major college football and he hopes to play professional football. As the quarterback, he knows that leadership is required on and off the field.
"As a leader, your peers and teammates will look up to you," he wrote in his essay. "Sportsmanship and a good attitude are key elements to being successful in life. Having a positive attitude can lead to a successful sports career. You want to provide good sportsmanship and a positive attitude because your peers, coaches and teammates will look up to you, and these character building concepts will also become life lessons along the way."
So who does he admire most? Well, it's that old signal caller Leonardo da Vinci who Blake calls a man way ahead of his time because of his wide array of interests and contributions to mankind. "He painted beautiful pictures and influenced the world to draw and paint," he wrote. "All his calculations and experiments were written down for the world to see. In spite of all the time da Vinci spent studying and testing, he did it for the love and passion of science, not for wealth or riches. This is what I admire most in da Vinci, he did this for the love of mankind, to make the world a better place."
Blake believes the world would be a better place if all cars were required to run on electricity or solar power. "Gas pollution is just destroying our world," he wrote. "There are things we can do to prevent global warming. We are only making it worse by using large quantities of gas and running our cars."
In high school, Blake plans to be a three-sport competitor. His first love is football, but he also will play basketball and baseball. In addition, he will continue with the Fellowship of Christian Athletes, wants to be a student athletic trainer and hopes to be in the National Honor Society.