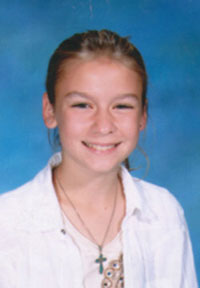 Anna Pfaff
Morris Nettle Creek
Principal: Mrs. Ann L. Chandler
Eighth grader Anna Pfaff of Morris Nettle Creek School is much more than a down to earth teenager who does daily farm chores and excels in interscholastic activities. She is the 2008 Scholar Attitude Award winner from Board of Directors Division D.
An avid reader who enjoys bicycling, exploring creek wildlife, hiking and who writes and edits with her sisters the family farm newsletter "Round The Barn", she is most proud of what she and one sister accomplished last summer after winning a scholarship through the Soil and Water Conservation District.
"My sister and I plus 7 other kids took vans down to a scenic river in Missouri called the Eleven Point River," she wrote. "We canoed down a 46-mile stretch of the river. At night we would stop at different sand bars and camp out. I slept out by the fire every night even though we had tents. This not only resulted in an amazing view of the stars, but 69 mosquito bites on my left arm alone! In addition to learning about the importance of protecting the environment, our group had time for some fun activities. I was proud that I was able to endure a week of rugged living. By the end of the week my sister and I were pretty disgusting (we were not permitted to use soap, unless it was biodegradable). My first shower after that was wonderful, but the ride home not so pleasant!"
Anna was a member of her school's Fox Valley Conference volleyball championship team, played on the basketball team and competes on the track and field team. She has been a member of the scholastic bowl team the past two years and is this year's captain. She was a Judge's Choice award winner in the IESA speech contest, a National Junior Honor Society member and is on the straight A honor roll.
The person Anna most admires is Pope John Paul II because of the way he spread his love to generations around the world, she wrote. And if she could make one change in the world it would be to wipe out all forms of abortion.
"You hear a lot about sportsmanship when you are in junior high," she wrote in her essay. "It is stressed among parents, teachers and coaches. Soon, the principle of it all plants itself into your conscience. This is a positive thing. When I think of sportsmanship, respect also comes to mind. Sportsmanship is how you gain and give respect. It can help instill confidence in you."
In high school, Anna plans to play volleyball and compete in track. She loves to run. She also will be in science club and Environthon (which she describes as like scholastic bowl with questions about environment and nature).
After high school, it's on to college, and she is leaning toward the University of Illinois. Having grown up with nature, she wants a career involving life science. Her first career choice is to be a herpetologist because she loves reptiles and amphibians. Anna says it would be a dream job to become a marine biologist, but she is not ruling out entomology or a career that combines law enforcement and biology. That would be forensic entomology.