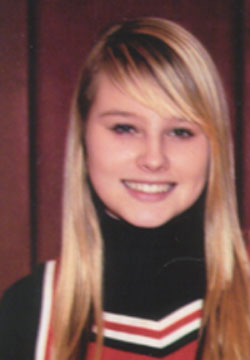 Ariel Stateman
Lemont Old Quarry
Principal: Mrs. Dawn Pechukas
In every school there are a few students everyone knows are the cream of the crop. At Lemont Old Quarry Middle School 8th grader Ariel Stateman is one of those students and that is why she is the 2008 Scholar Attitude Award winner from Board of Directors Division C.
The road to success leads right to Ariel Stateman. She has been a member of her school's regular cheerleading squad, and its competition squad that participated the past two years in the IESA state cheerleading competition. She was named most improved cheerleader in 7th grade. She also has participated in cross-country, student council and yearbook club. In academics, she has earned high honors every trimester with the school's highest math average in both her 7th and 8th grade years and highest average in science in 8th grade. Outside of school she competes in club gymnastics, is a student at American Dance Center and has volunteered for numerous civic events and organizations including Earth Day clean-up, Santa's Workshop, and the Lemont Bears wrestling meets. In addition to her volunteer work, Ariel finds the time to provide babysitting services and do home tutoring.
Her perspective on sportsmanship comes from both on the sidelines and in the competition. "The great thing about sportsmanship is that it doesn't cost a thing. It is valuable because it comes from the heart and you cannot buy that. It is purely the right thing to do."
In high school, Ariel plans to participate in cheerleading, gymnastics, track and field, debate team, drama, foreign language club, mathletes and the environmental science club. She loves debating and math, would like to act and wants to help solve environmental problems.
The one change she would make in the world is to make the world's environment better. "Earth is the only place where we are capable of living at this time," she wrote. "In my opinion we are not doing enough here to help our Earth and soon it will be too late when people notice the effects. Not a lot of people think about what it is going to be like in the future. The Earth is our only home, so I think we should take better care of it while we have a chance."
Ariel's success comes from within. "The single most important thing to me is having a successful future and that is why I am most proud of my grades in school," she wrote. "It does not always come easily for me and I work extremely hard to earn my exceptional grades and it is my top priority. Most of my family did not go to college, with the exception of my mom and my aunt. I aspire to follow in their footsteps.
The influence of her aunt, who has overcome several personal tragedies, plays a strong role in her determination to succeed. "At the time, I was too little to understand all of the tragedies my Aunt Karen was going through but now I realize how truly amazing she was for getting past her circumstances. I look up to her so incredibly much."
Ariel's inner drive to succeed may very well lead to a college or university with a law school like the University of Illinois, Yale, Harvard or Stanford because she is really interested in becoming a lawyer. She wrote, "I love anything that has to do with debates, politics and serving justice. I will be happy with attending any of these schools because all I really want in life is to be educated and successful. I will always keep reaching my dreams."