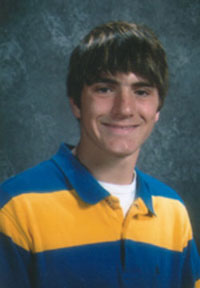 Aaron Brenner
Sterling Challand
Principal: Mrs. Suzzette Hesser
In the long run, Sterling Challand Middle School 8th grade student Aaron Brenner will have a leg up on his goal of becoming a doctor. He is the 2008 Scholar Attitude Award winner from Board of Directors Division B.
At school he has been a member of the cross-country, basketball and track and field teams. Aaron also has participated in the school's band, choir and full orchestra and is on the scholastic bowl team. He has been on the high honor roll every quarter and has been selected the school's student of the month the last two years.
Last spring in the IESA seventh grade Class AA state track and field meet, he qualified in the 1600-meter run, finished 7th in the 400-meter dash and anchored his school's second place 4 x 400-meter relay. This past fall he qualified for the IESA state cross-country meet and played on Challand's basketball team that qualified for the IESA 8th grade Class 4A state tournament.
The relay's second place finish in the state meet is his proudest accomplishment so far. "My teammates and I worked very hard to earn second place," he wrote. "Our goal for this race was to do our best together. We broke the school record by 4 seconds." This spring only time will tell the fortunes of the runners from his school.
The sport that Aaron has devoted 10 years of his life to is soccer and he looks forward to playing it in high school. His goal is to make the varsity team as a freshman. He also plans to play basketball, compete in track, be on the scholastic bowl team and participate in the math club.
Aaron had to get his ability to run from his father, the person he admires most. "My dad runs almost every day," he wrote. "He exercises every day, he is always encouraging my sisters and me to eat right, and thinks of activities that we can do as a whole family. He has competed in many races including marathons."
In the essay he wrote on the value of sportsmanship, his perception of it shows the potential for a great bedside manner. "To me sportsmanship is the difference between having fun while playing a sport and having a terrible time. Sportsmanship can bring out the best in people, but those who don't show sportsmanship can ruin any event. I think sportsmanship is essential in any sport. I would like to think that everyone shows good sportsmanship but I know that is not always true. Most importantly sportsmanship is having a good attitude whether winning or losing."
Aaron Brenner plans to attend the University of Illinois for his undergraduate degree and then go to medical school and study sports medicine.