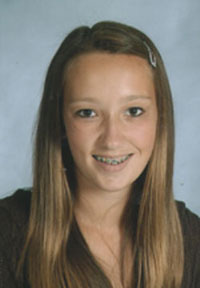 Kendall Herren
Somonauk
Principal: Mr. Matthew T. Jeffrey
Somonauk Middle School 8th grader Kendall Herren has been involved in all aspects of interscholastic athletics and activities. She is the 2008 Scholar Attitude Award winner from Board of Directors Division B.
Her sports in 7th and 8th grade are soccer, basketball and track and field. She plays the flute and has been a member of the band the past two years and participated in the IVCC Honor Band. Kendall has been a student council member the past two years and is on the yearbook staff. In addition, she wrote the soccer game summaries for the morning announcements at school and was statistician for the boys basketball team.
The basketball-band combination taught her a valuable life lesson. Kendall was selected to participate in a seven-school regional honor band program and her school basketball team scheduled a tournament on the same weekend. She tells what went through her mind and how she handled the conflict in her sportsmanship essay:
"In order to practice good sportsmanship, I feel a student must fully commit to an activity, exhibit a good attitude, and display excellent character. I recently had a unique experience that tested my sportsmanship. I had already committed to the honor band and had to tell my basketball coach that I couldn't play in the tournament. I kept sportsmanship in mind and followed through with what I started, doing my best to have a good attitude about my decision and keeping true to my character by doing what I felt was right. If I hadn't honored my original commitment, I would have wasted a spot that students from other schools could have used. I was fair to my band director and honest with my basketball coach about my decision while still showing respect to all the interscholastic programs involved. Sportsmanship and good attitude helped me to build relationships with fellow classmates, as wells as students from other schools. This experience taught me to value sportsmanship, and I came out a true winner!"
Kendall is a writer and an artist, too. In seventh grade, she wrote the winning Daughters of the American Revolution essay, was selected to read the Gettysburg Address at the Veteran's Day all-school assembly and won the Veteran's Day poster contest. Outside of school she has been a soccer official and softball/baseball umpire. In 4-H, she has been an officer, an exchange member and a county federation member, as well as receiving superior ratings at the Illinois State Fair. She has used her talents to raise nearly $700 in donations for Relay for Life, Children's Research Fund, Kendall County Animal Shelter, 4-H Bowl-a-thon and Unicef.
What is the single feat in her life that she is most proud of? It is her perfect GPA in middle school. "I have set a goal to keep this GPA throughout middle school," she wrote. "I stay up late working hard on homework and projects and have missed out on social events because meeting deadlines is important to me. I continue to challenge myself with extra credit work in order to keep my grades high."
Her most admired person is former Green Bay Packer quarterback Brett Favre. "I am not a football player and I actually know very little about football but I find his story inspiring," she wrote. "I admire him because he values working together as a team and displays good sportsmanship."
Kendall plans to attend the University of Illinois and earn a degree in science. Sports medicine sounds interesting to her as does becoming an anesthesiologist.