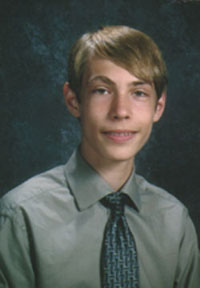 Patrick Juras
Lake Zurich North
Principal: Dr. Nate Carter
What do a trombone and architecture have in common? Answer: Partners in the way Patrick Juras may some day change the world.
An 8th grade student at Lake Zurich Middle School North, Patrick in the future might lead the band that takes the parade to an educational edifice he designed that is the center of a new order in education that will make the world a better place for all its inhabitants.
He is the 2008 Scholar Attitude Award winner from Board of Directors Division A.
Juras has been first chair trombonist the past two years, and earned the "Highly Dedicated Player" award once. He plays in both his school's symphonic and jazz bands. He is strongly considering a career in architecture after college, and he believes most of the world's problems stem from lack of education.
"If the entire world population could somehow be educated to the greatest extent possible, many problems (in the world) would disappear because equality could be reached amongst races," he wrote. "Decent jobs and employment would be available to everyone and a new generation of educated freethinkers could reform world government among other changes. Education needs to be a top priority of governments, not military interests, public housing, or even roadway and transit budgets. By investing money, efforts and time into this . . . so much can be achieved. Education is the central issue that everything revolves around, and a strong push for a better system is necessary."
At Lake Zurich Middle School North, Juras also is captain of the scholastic bowl team and a member of the cross-country team. He was an IESA state meet qualifier in cross-country this year. He has been on the high honor roll throughout middle school and was named student of the month in December, 2007. He also has participated in the IMEA festival band and as a 7th grader he participated in the Illinois Mathematics League contest.
He has an ambitious extra-curricular program planned for high school. He wants to participate in cross-country, track and field, scholastic bowl, marching/concert band, the school newspaper and the environmental awareness club.
Patrick plans to go to college and is looking at either Cornell University or the University of Illinois for architecture, but he also has a liking for the law.