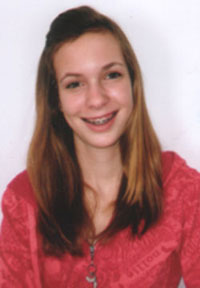 Sara Scarbro
Algonquin Heineman
Principal: Mr. Jim Stotz
Success comes to those who care enough about themselves, their teammates and, yes, their opponents, to be the best they can be. Algonquin Heineman Middle School 8th grade student Sara Scarbro has always been successful because she cares.
She is the 2008 Scholar Attitude Award winner from Board of Directors Division A.
Knowing she was an 8th grader on the cross-country team, and wanting to be a helper to the younger runners on the team, Sara got the team together on the weekends "so we could run at the sectional course in order to make our team feel prepared instead of nervous like I was in sixth grade." She said she felt like a role model to the 6th graders on the team and remembered how she felt at their age.
Sara qualified for the IESA state cross-country meet three times and so far as a member of the school's 4 x 400-meter relay has been to the IESA state track and field meet twice. She also was on the basketball team in 7th and 8th grade and was a cheerleader those two years, winning sportsmanship awards in cheerleading both years.
"Sportsmanship is extremely important to me" she wrote in her essay. "Even though it is defined as playing fair and following the rules of the game, it goes way deeper than that. It means being respectful. It's about playing the game and caring about people you play with and against. A sport is a game, and through all the hard work and pain, sports are played because people love to play them. Whether a game is won or lost, always remember why you are playing it."
Scarbro is also involved in her school's chorus, honors choir, Team Quest and musical drama. She has been on the Principal's List 10 consecutive quarters. She was her school's physical education and mathematics student of the year in 7th grade.
According to Sara, mom gets all the credit for her successes. "Starting at two years old, she had me involved with sports and made me the person I am today," she wrote. "She is the hardest working person I know. She is a single mom who is raising three kids alone because my dad died. It is amazing how she can work about 70 hours a week and still go to all our events at night and on the weekend."
And the one change in the world that she would make? "I would try to make the world be at peace. I have a best friend who has a brother that went to war. Her family prayed every day to keep him safe. I would never want to have my two brothers go to war and have my family go through that. If you are kind to one person, most likely that person will be kind to a different person, and maybe in the future our world will be at peace. I lost my dad and I was very pensive. I hate to think of families all over the world that lost their relatives because of wars."
Sara plans to participate in cross-country and track in high school because she says running is her favorite sport. She also will be in the choir because she loves to sing, try out for basketball because she loves to play it, and run for student council because she wants to be more involved with decisions that are made for her school. She lists the University of Wisconsin or Harvard as her top college choices. Sara wants to become either a doctor or lawyer. Should she attend Harvard, perhaps that dream of running in the Boston Marathon will become a reality.