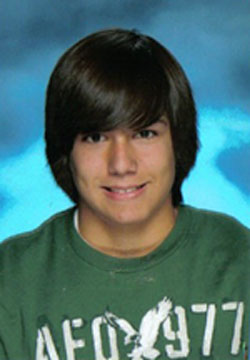 Kory Sczurek
Staunton
Principal: Mr. Mark Skertich
With sights on becoming an orthopedic surgeon, Staunton Elementary School 8th grader Kory Sczurek has operated well in the classroom and in the athletic arena. He is the 2008 Scholar Attitude Award winner from Board of Directors Division O.
As something like a kinder, gentler "Dr. House" of cable television, Kory has compassion for those he would serve. If he could make one change in the world it would be "that new medicines could be discovered for children in order to prevent illnesses that would confine them to the hospital almost their entire life. These children have experienced less than half of the things I have, and yet they still have the will to live. Instead of a life full of pain and discomfort, I would like them to be able to experience a carefree childhood."
Kory was on his school's basketball team the past two years and the baseball team as an 8th grader. He is a member of the school band (elected vice-president of the band by his classmates) and the junior high fan club for three years, serving on its board of directors.
The single feat he is most proud of is being a member of the Staunton team that advanced to the IESA 7th grade Class 3A boys state basketball tournament. "Our school hasn't been too successful since our high school team won the Class A tournament in 1993. It felt amazing to make it that far and it brought our town together in their support of us. It was great to look up in the stands and know all those people were supporting you to do well."
Kory understands that when teams get on a roll, sportsmanship can either be the driver of the school bus or can take a back seat of the same bus. "Sportsmanship reveals the leaders to our sports teams," he wrote in his essay. "Someone's sportsmanship shows a person's true self and personality, and how they react to a lot of success or a lot of negativity. Finally, the representation of one's town and family, sometimes depends on the participant's sportsmanship. The impact of sports on a community is tremendous and sometimes it creates stereotypes within a particular town. They create rivalries between towns, and depending on each town's sportsmanship, the rivalry can be positive or full of hatred."
In high school, Kory will add football to his list of activities. He'll still participate in basketball and baseball and the band. Then it's off to college and eventually medical school. He's got his eye on a few schools with strong medical programs: Harvard, Yale, St. Louis University, University of Florida, University of Texas or University of Illinois. Where will the new "Dr. House" go?