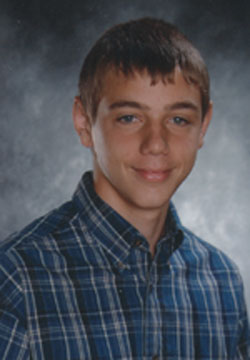 Dominic Vahling
Teutopolis
Principal: Mr. Bill Fritcher
For the fourth straight year, an 8th grade student at Teutopolis Junior High School has earned the Scholar Attitude Award. Dominic Vahling is the 2008 winner from Board of Directors Division N.
An outdoorsman, the son of a farming family, Dominic has many interests in school and in the community. He played baseball and is on the track and field team in athletics. He is involved in scholastic bowl, the band and was a member of the pit orchestra for the annual school musical. A member of the High Honor Roll, he was runner-up in the school spelling bee and placed fourth in the school geography bee.
Outside of school Dominic helps his father year-round on the family farm and participates in church youth group activities.
The person he most admires is his father, Tom. "He is hardworking and has a wonderful attitude," the son wrote in his nomination application. "Every morning he wakes up before the sun, eats his breakfast, and heads outside to feed the cows. I admire this because he always gets to bed late and still manages to get up early. My father always puts his family first. His motto is 'If you set your mind to it, you can do it'."
Taking his first deer with a bow is the single feat Dominic is most proud of "because I showed my older brother that I am good at something that he is also good at, maybe even better. My parents also make me proud of this feat because every time they eat the deer meat, they remind me of how much money I am saving my family because of the free meat."
What one change would he make in the world? "It would be that our lawmakers and judges interpret the Constitution how it was meant to be interpreted, not how they think it should be interpreted. Since our lawmakers and judges want so much power in this day and age, all they want to do is be in control. They do not care what our founding fathers wanted this country to be; they care only about what they want. The United States of America would be much more unified and would be better off if our politicians used the Constitution instead of trying to change it."
Dominic plans to compete in cross-country and track and field in high school as well as participate in scholastic bowl and math club. "My brother is the president of (math) club this year, and it will give me motivation to do better in math class," he wrote.