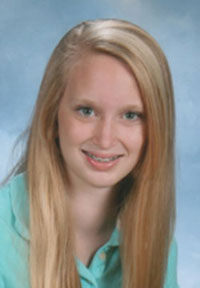 Jennifer Schmidt
Effingham St. Anthony
Principal: Mrs. Mary Lynn Byers
Effingham St. Anthony Grade School 8th grader Jennifer Schmidt has been involved in many aspects of interscholastic athletic and activities. She is the 2008 Scholar Attitude Award winner for Board of Directors Division N.
In athletics, Jennifer played on her school's basketball and volleyball teams and competed in track and field. She also was a cheerleader, a member of the scholastic bowl team, a member of student council, the Spanish club, and was involved in the tutoring program. She is a straight A student on the High Honor Roll.
The feat she will most remember was the accomplishment of her 7th grade basketball team that made it to the IESA Class 2A state final tournament. "This question really made me think," she wrote in the nomination application. "I was one out of eight girls on my basketball team. We had absolutely no training and weren't even expected to be that good; however we ended up having a good year. At the sectional we were down at halftime by quite a bit, but in the end we came back to win. We were going to state! In our state game (quarterfinal) all of us played our hearts out, and we left everything on the court. The final score said we lost that game, but we still believe we were the winners. We ended our season with a winning record. We showed everyone that when we set our minds to something, we can accomplish great things."
Jennifer would end poverty if she could make one change in the world. "I would make it so everyone had food in their stomach and clothes on their back, so everyone had a roof over their head and a job. No one should have to starve to death or die of a curable disease just because they don't have enough money. No one should have to be thrown out of their house because they lost their job and don't have enough money to pay their bills. And no one should have to live in a box on the street in cold and wet conditions. Poverty is so sad, not only because it results in hunger and disease, but because it keeps kids from receiving the proper schooling, which prevents them from leading the life they are meant to have."
In high school, Jennifer plans to play volleyball and basketball and compete in track. She wants to be in the student council, the Spanish club, pep club and the Fellowship of Christian Athletes.
She hopes to follow in the footsteps of her father as a student at Notre Dame University. "Going to Notre Dame would be an amazing way to meet people from all over the world," she wrote. "Notre Dame has an outstanding study abroad program, with 41 different programs in over 18 different countries. To study abroad is one of my dreams."