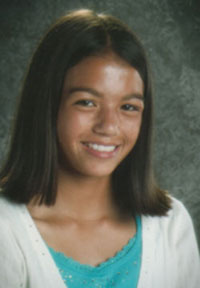 Rachel Kobayashi
Chatham Glenwood
Principal: Mrs. Jill Larson
There is no question that Chatham Glenwood Middle School 8th grader Rachel Kobayashi has a leg up on accomplishment. She is the 2008 Scholar Attitude Award winner from Board of Directors Division M.
A member of the school band for three years, the cross-country team for three years, the basketball team for three years, the track team for two years and student council this year, Rachel has played a prominent role in Chatham Glenwood's athletic success.
In 7th grade she was a member of the team that placed second in the IESA Class 4A state basketball tournament. At the Class AA IESA state track and field meet last year, she finished 15th in a time of 2:34.88 in the 800-meter run and 20th in the 1600-meter run in a time of 5:39.81.
As a 6th grader, she ran for the Chatham Glenwood cross-country team that placed third in the IESA Class AA state meet. She followed that up in 7th grade with an 18th place individual finish as her team captured second place honors in the Class AA state meet. This past fall she was the sectional individual champion and set the course record in doing so. One week later, she finished 7th in the Class AA girls state meet in a time of 11:57 which helped her team win the Class AA girls team title and become state champions.
Winning the state championship is the feat that made her most proud. "We worked so hard to reach our goals and we succeeded," she wrote in her nomination application. The summer before I ran and ran almost every day to prepare for the season. When the speaker called our school for first place I knew I would not be forgetting that day."
In school, Rachel has been on the Honor Roll since sixth grade. She is a straight A student. She has been named student of the month in November 2006, March 2007 and August 2007. She represented her school at the Junior National Young Leaders Conference in Washington D.C. in 7th grade.
Outside of school she plays on a soccer team, is a member of a running club and competes in road races. She also is a volunteer bell ringer for the Salvation Army and a volunteer for the Central Illinois Food Bank.
Acceptance of others is what Rachel would change in the world if she could. Through a science project on acceptance and cliques, she reached disappointing conclusions. About the project she wrote: "At our school almost everyone sits not only at a particular lunch table, but their own seat at that table. For the project, I sat at many diverse lunch tables without telling anyone what I was doing. I had a point system for the comments directed towards me to measure how accepted I was at each table. After sitting at each table, I returned to ask them questions about acceptance. One question I asked was 'Would you welcome anyone to sit at your table?' Many answered no, including some at the table where I normally sat. This made me sad. The students also anonymously ranked the tables from the least to most popular. I found in general that the least popular tables were the most accepting."
Rachel plans to compete in cross-country, basketball and soccer in high school, and continue in band and student council. She wants to attend the University of Illinois but is undecided on a major.