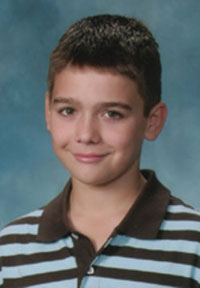 Matthew Keown
Findlay Okaw Valley
Principal: Mr. Joel Hackney
Big results are something that 8th grader Matthew Keown of Findlay Okaw Valley Middle School keeps striving for and achieving. He is the 2008 Scholar Attitude Award winner from Board of Directors Division L.
For a young man involved in all facets of his school's interscholastic program, the single feat he is most proud of is the success of his sixth grade scholastic bowl team, which competed against seventh graders all year. "I'm most proud of this because we had harder questions that were geared towards seventh graders in seventh grade subjects and still won five of eight matches," he wrote in his nominee application. For the record, Matthew last year in 7th grade won the school award for most toss-up questions answered.
Matthew's involvement at school includes two years on the baseball team, two years on the basketball team, two years of scholastic bowl, two years of student council (including being treasurer in 8th grade), two years of band, two years of Team Quest, and FFA president in 8th grade.
Last year in the IESA solo and ensemble contest, he earned Division I ratings in two events.
In the IESA speech contest, Matthew earned a Division II rating in 7th grade in improv and a Division I rating in 8th grade in small group. He was named student of the month this year and earns straight A's in all of his subjects.
The one thing he would change in the world would be the act of terrorism. "This needs to change because many national monuments have been damaged or destroyed in recent years by terrorist attacks. Also many people have been or will be killed by terrorist attacks."
His perception regarding the value of sportsmanship offers these thoughts: "Why would you play in any sport or activity when you're just going to complain and be a bad sport when you don't win? You would never do this in a classroom when you feel like you deserved a better grade. Having good sportsmanship will make you feel better whether you win or lose, because you know you're not the kid who was a poor sport and because you know that you worked hard for the outcome."
In high school, Matthew hopes to be on the school teams in baseball, basketball, golf and scholastic bowl. He will continue in FFA and hopes to be a member of the student council. After that, he wants to study either architecture or engineering at Harvard or the University of Illinois.