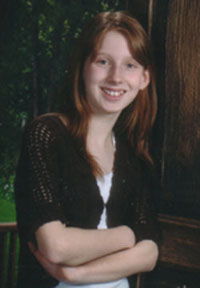 Rachel Kenderdine
Paris Mayo
Principal: Mrs. Melanie Ogle
Natural leaders are easy to spot in every school. At Paris Mayo Middle School, 8th grader Rachel Kenderdine stands out in a variety of ways. That is why she is the 2008 Scholar Attitude Award winner from Board of Directors Division L.
Rachel's sense of the value of sportsmanship is stimulating and reinforces her leadership qualities. In her essay she wrote: "Sportsmanship is also a very powerful part of life. If someone is feeling down in the dumps and they are complimented on a good grade, they feel better and may be nicer to other people instead of treating them badly due to their mood. These people with good sportsmanship are often considered good influences and are important people in their communities, while people without good sportsmanship are often considered bullies with a bad attitude. Without sportsmanship, our lives would be dreary and unhappy because of the lack of compliments and good feelings."
The list of her accomplishments at Paris May is overwhelming. She has been a member of the volleyball team, dance team, student council, yearbook planning committee, Builder's Club, the marching, concert and pep bands, history club, WHAM (Mayo's in-school TV station), the Mayo Chefs Cooking Club, and a member of the speech team.
She received the award for the outstanding yearbook member, the outstanding student council member, the outstanding band member and was the winner of the most accelerated reader points award. She has received the President's Gold Award for the Honor Roll all of her quarters. In the IESA solo and ensemble contest she earned a Division I rating and the Best of the Day award. In the IESA speech contest she earned two Division I ratings and a Judge's Choice award.
Outside of school, Rachel is a member of the Bell Ridge 4-H, volunteers as a bell ringer for the Salvation Army, is a volunteer for the Paris "Holiday in the Park" event and has participated in the Edgar County Relay for Life.
In recognition of her involvement, she was one of five students last year to receive a $1,000 scholarship from the Paris Scholars program. That is the feat for which she is most proud. "I had worked very hard all year and done many activities, so I felt honored to receive one of the scholarships," she wrote.
Given the change, Rachel would eliminate poverty completely everywhere. "So many people in the world go without food, water, proper nutrition or even clothing every day. Millions and millions of people are sick or starving or dying due to poverty and the things that come along with it because they cannot afford, or their country does not supply, necessities that many people take for granted."
Rachel will continue playing volleyball in high school and plans to be in the Key Club, band, yearbook, student council and biology or science club. She definitely will continue with the cooking club. She wants to attend Southern Illinois University-Carbondale, her father's alma mater, and plans to go into the field of zoology or non-farm animal caretaking.