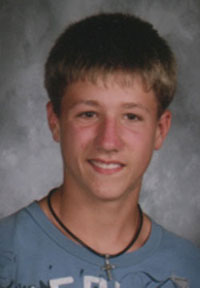 Reid Farchmin
Mahomet-Seymour
Principal: Mr. Jeff Starwalt
Reid Farchmin, an 8th grader at Mahomet-Seymour Junior High School, is way ahead of the curve in his thinking about his future. He hopes that one day he'll be in hoops heaven in a place on Tobacco Road called Chapel Hill. This standout basketball player is the 2008 Scholar Attitude Award winner from Board of Directors Division K.
As he wrote in his nomination application: "After I graduate from high school, I have always dreamed of getting a scholarship for basketball at the University of North Carolina. I would like to study electrical engineering."
Reid can thank his father for developing his talents. "The person I most admire is my dad," he wrote. "He has always been there for me. He is the one who took the time to teach me basketball. I feel I can always talk to him about anything from sports to personal problems. He has high standards for me morally, academically and athletically. The thing that I admire the most is he has always been hard on me but I know he loves me and that has made me a better person."
An outstanding student on the High Honor Roll, Reid's athletic involvement at school has been in basketball and track and field. On the hardwood, in both 7th grade and 8th grade, he led his team in scoring (17.5 points per game), rebounding (7 per game) and free throw percentage (66 percent).
The feat of which he is most proud was his performance in a 7th grade basketball game against Bloomington JHS when he scored 28 points and had 20 rebounds in his team's 37-35 victory.
Outside of athletics, Reid is on the school dance committee, the pep club for girls basketball and the band. In the community is a volunteer and is involved with service projects for his church and at Salt and Light (the local food and clothing pantry).
If he could, Reid would change poverty. "Millions of people around the world are affected by hunger, lack of education, poor living conditions and no medical care," he wrote. "To break down poverty, our communities must band together around the world. I may not be able to change poverty worldwide at my age, but I am doing what I can by helping at my local food and clothing pantry."
In high school, Reid will add baseball to his menu of basketball and track and field. He hopes to be a member of the student council.