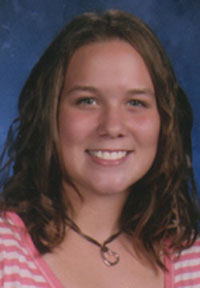 Nicole Schweighart
Champaign St. Matthew
Principal: Mrs. Kathleen Scherer
Nicole Schweighart learned to talk the talk and walk the walk before the 8th grader at Champaign St. Matthew School ever played on her school's teams. In school or outside of school, she has accomplished much in a short time. Nicole is the 2008 Scholar Attitude Award winner for Board of Directors Division K.
It all started when the person she admires most (her brother Rich who is nine years older) put a basketball in her hands. "When we were little he would allow me to play with him and his friends in basketball," she wrote on her nomination application. "Even though I would come inside banged up I had the best time, but I knew if I cried or whined I would have had to go inside. This made me tough as ever and even though I would always get beat in any game I played with them, I never gave up. This is where I believe my determination came from and that's one of the best qualities I have."
Nicole played catcher and third base in softball, point guard or shooting guard in basketball and volleyball for her school. A straight A student, she also is on the scholastic bowl team. As a 7th grader she won the Tim Stillwell Award given to the 7th grade girl who best represents a Christian athlete. Her 7th grade basketball team finished third in the IESA Class 2A state tournament and she scored 28 points in 3 games.
Outside of school, Nicole is in Girl Scouts, having won the Bronze Award and now working on the Silver Award. She also is an avid horseback rider and instructor at a local stable, averaging about 5 hours each Friday evening.
"In my mind my greatest feat is my dedication to riding," she wrote. "I started riding when I was seven and I have been involved in riding ever since. I work every Friday from 3 to 9 at the stable. This might entail helping new riders. Sometimes I exercise new horses or work with horses that have become difficult for the new students to ride. The owner of the stable has identified me as her first choice for training others. I have earned her respect and feel extremely proud. My hard work and dedication has definitely been noticed."
Nicole's experience working at the stable has given her insight into the horse sense that it will take to make the one change in the world that she would make, that everyone is treated equally. "I wish people were not judged by the color of their skin or their economic background, but rather their personality. Way too many people judge people without even knowing their name. I think prejudgments do more harm to society than anyone ever thought possible. If people just took time to get to know others, then there wouldn't be so many cliques and outcasts. Think about it, when you say someone is weird, do you really know them or have even talked to them before."
Nicole plans to participate in basketball and soccer in high school, perhaps giving volleyball a try. She will become involved with school clubs depending upon their availability. After high school, she plans to attend the University of Illinois to become a veterinarian or doctor.