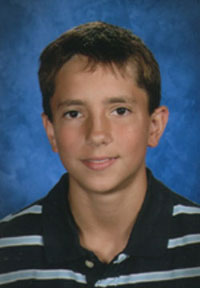 Lance Curtis
Bushnell-Prairie City
Principal: Mr. Mike Snowden
When you take a look at everything Lance Curtis has done in grade school and plans to do in high school and beyond, it is easy to understand how this Bushnell-Prairie City Junior High School 8th grader is traveling the road to success.
He is the 2008 Scholar Attitude Award winner from Board of Directors Division J.
Lance set out to get good grades and that, among his many accomplishments, is what makes him most proud. "I have worked hard and have gotten all A's on my report card every year," he wrote in his nominee application. "I feel that I have done so well because when I was young I went to a speech therapist at our local university, who helped me to overcome my speech defect. I was taught how to concentrate, work hard, focus and never give up. By learning this I was able to do all three sports as well as other activities and still maintain my good grades."
That "can do" philosophy is promoted in his feelings for the value of sportsmanship, which he writes in his essay is the most important aspect of interscholastic sports today. "To me, good sportsmanship and positive attitude makes one to be a better player and student. He or she will work harder in their academics and have more confidence in themselves, if they have both of these qualities. These values would allow any member of a team to pursue higher education, graduate and become a successful person."
Vice president of the student council, Lance played football, basketball and competed in track and field in 7th and 8th grade. He was co-captain of the football and basketball teams and last spring was MVP of the track team. For the past two years he has placed 6th in the 800-meter run at the IESA state track and field meet.
A two-year member of the student council, he also has been a member of the school newspaper staff and yearbook staff the past two years, as well as playing in the band. As a 7th grader, he won his school's academic awards in language, science and math. Outside of school Lance is in 4-H, is involved with his church's youth groups and referees basketball games for the younger children.
He has a strong conviction about firearms. "If I could change one thing in the world today it would be a removal of all the automatic, semi-automatic and hand guns because they are mostly meant to kill or harm someone," he wrote. "There would be fewer deaths, less robberies, and less crime associated with violent use of guns since people would not have these weapons to commit crimes with. Hunters could still hunt by registering the place and date they are hunting and by using only single-shot shot guns."
In high school, Lance will continue to compete in football, basketball and track, as well as participate in scholastic bowl, the yearbook staff, Interact Club, band, FFA and class officer if the opportunity arises. Then off to the University of Illinois to pursue a degree in the field of science. "I would like to invent something that would change people's lives and make some things better for them," he wrote.