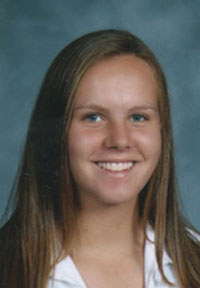 Tori Kuhn
Quincy
Principal: Ms. Diane Glaub
Quincy Junior High School 8th grader Tori Kuhn has been the center of attention in her school's girls sports program the past two years. She is the 2008 Scholar Attitude Award winner from Board of Directors Division J.
In basketball, she was the hugely talented MVP center who led the 7th grade team to an undefeated season and the IESA Class 4A state championship and then her team followed that up with the 8th grade Class 4A state championship this year. In softball, she played shortstop on teams the past two years that lost in the sectional. In track and field as a 7th grader, she finished 5th in the shot put and 12th in the discus at the IESA state track and field meet. This spring she wants to improve upon those finishes.
What she has gone through to achieve this athletic success ranks as the single feat in her life that makes her most proud. "In my life I have accomplished many things, but what I am most proud of is surviving, at a very young age, the loss of my dad," she wrote in her nomination form. "For the first 5 years of my life, he was someone I always looked up to. Most people may not know this, but my athletic talents were not spontaneously generated. The apple did not fall far from the tree as far as sheer desire and competitiveness in sports is concerned. Sometimes during games, when I feel the pressure is on me, I look to the sky and know that he is right there with me, urging me on."
In the classroom, Tori is just as accomplished. She has been on the High Honor Roll every quarter and is in the school's TAG (talented and gifted) program. Outside of school, she volunteers as a coach with the Lil' Devils basketball team and last summer was a participant in the Nike basketball tournament in Kansas City. The team she was on won the title. She also played on the Quincy Diamonds softball team that won an ASA 12 and under tournament involving 80 teams.
Tori's mom is the person she most admires because "she is someone that is always there when I am struggling, and she can lift me up when I am down," she wrote. "Though having suffered many losses in her life, she remains a hardworking, responsible, and loving mother."
Restricted to one change in this world, Tori would eliminate the pain and suffering of being a mentally or physically handicapped person. "By doing this, these innocent victims of life changing restraints would lead happier lives. It kills me to hear a story or see an incident when a perfectly healthy child was injured in a life threatening way which caused them to have ever lasting problems. I believe that if being handicapped was not a possibility in this world, tons of traumatic situations would be dismissed."
Tori will be a Quincy Blue Devil and she plans to be on the softball and basketball teams. After high school, she has heart set on playing basketball in college. Tennessee or North Carolina top the list where she would like to continue to play in college.