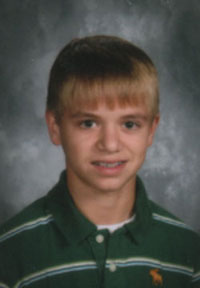 Jacob Olson
Lincoln West Lincoln-Broadwell
Principal: Mr. Bailey J. Climer
Jacob Olson, an 8th grade student at Lincoln West Lincoln-Broadwell School, can easily be the poster boy for student-athlete. That is why he is the 2008 Scholar Attitude Award winner from Board of Directors Division I and the second member of his family to earn the honor. Abby Olson, the Division I winner in 2006, is his sister.
He is a standout for his school in baseball, basketball and track and field. He also is a straight A student. Outside of school on the family farm, he is in 4-H and shows swine.
As a 7th grader, Jacob became the first student in his school's history to participate in three IESA state final events in one year. In baseball, he was the second baseman and lead off batter on a team that played in the quarterfinals, and he won the team award for most improved player. In basketball, he was the point guard on the eighth grade team that placed second in Class 1A and earned the awards for best defensive player, best offensive player, most steals and hustle. He combined with teammates Alex Schonauer and Jordan Nelson for the all-time IESA state tournament record for most three-point field goals by a team in a game with 13. In track, he qualified for the state meet in the 110-meter hurdles.
He concluded his four years as a member of the baseball team this past fall by being named its MVP and he had the highest batting average.
The recognition from school for being the first to compete in three IESA state finals in the same school year ranks as the feat for which he is most proud. "It was great to represent my school at all of these events," he wrote. "I felt I was a good role model to the younger students by giving it my all and holding my head high win or lose."
Jacob admires his junior high Coach Brian Brackney most. "Not only has he taught me the basic skills of the game, he has shown great character with a hard work ethic," he wrote. "Coach Brackney has boosted my self-confidence by pushing me to always do my best. Because of his coaching, I have a better chance to play basketball at the high school level."
At Lincoln High School, Jacob plans to play baseball, basketball and be in the Spanish club. After that he plans to go to the University of Illinois and major in architectural design or engineering. Once he begins his career, he plans to volunteer his time to be a youth coach.
That will give him the opportunity to be an influence for change in the world that would put a stop to bullying. "Physical and verbal bullying is equally harmful," he wrote. "The victim of this act suffers from embarrassment and may lower self esteem. To stop bullying we need to learn to speak up to the troublemaker and let the victim know that they have your support. It may only take that one person to intervene and stand up to the bully to break the cycle of violence."