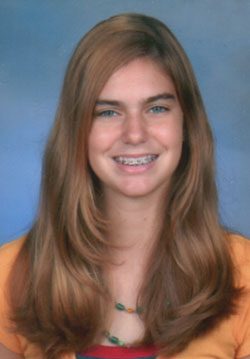 Rachel Walker
Decatur Johns Hill
Principal: Mrs. Amanda Reck
Rachel Walker is a young woman for all seasons, for all things academic, and that is why this 8th grader from Decatur Johns Hill Magnet School is the 2008 Scholar Attitude Award winner from Board of Directors Division I.
That spark to excel has to come from the person she admires most, her mother. "I admire her because she is always one step ahead of the game," Rachel wrote. "If I have a problem, she has the answer. Even though she is dedicated to running a successful business, she always makes time to come to my games and make sure I am having fun. She is very dependable and trustworthy and I hope when I am older I can be as good of a parent as she is to me."
Rachel participated in cross-country, basketball, volleyball and track and field for Johns Hill Magnet School. She also was in the show choir, the orchestra and the school musical. She is in the National Junior Honor Society and is on the High Honor Roll. In 7th grade she was treasurer of the student council and is its president in 8th grade.
In her essay on the value of sportsmanship, she wrote: "Characteristics of good sportsmanship to me are being respectful, listening, trustworthy, and having good character. These are very noticeable qualities that can be seen by anyone. Having good sportsmanship is an important part of any game. It is what makes the game fun to play, watch, coach and officiate."
She plans to go to college and her current interest is engineering. She wants to attend the University of Illinois. Maybe while she is there she can begin to make the one change in the world that she wants to do. That change is "to provide transportation vehicles and other high oil consumers with a renewable resource that does not harm our atmosphere," she wrote. "If there was another way to generate power that did not involve nonrenewable resources, then prices for that resource would not be so high. The exhaust that is emitted from cars and buses destroy the ozone molecules in the stratosphere. The renewable resource that would be used to generate power would also be environmentally friendly. This resource would be the sun."
In high school she plans to play softball and volleyball and participate on the scholastic bowl team. "I have a talent in these sports that I would like others to be able to see and I would like these talents to reach their full potential," she wrote. "In school I have been receiving top grades since kindergarten and I have always had a competitive side to me. On the scholastic bowl team I hope to challenge myself with my academic ability and have fun at the same time."
Oh yes, the single most feat in life thus far that she is most proud of is being nominated for the Scholar Attitude Award. "Being nominated for this award was a total surprise and that is what makes it the proudest moment of my life," she wrote.