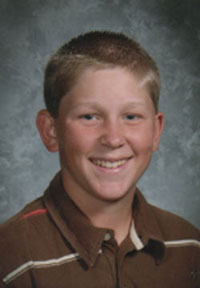 Matt Onysio
Normal Kingsley
Principal: Dr. Lynette Mehall
Matt Onysio is a natural athlete and student. He does well at most things he tries. The 8th grader from Normal Kingsley Junior High School is the 2008 Scholar Attitude Award winner from Board of Directors Division H.
Matt was a member of the Kingsley baseball and basketball teams. He received the "Mr. Cavalier" award in baseball and his basketball team finished 2nd in the 8th grade Class 4A state finals this year. He also competes on the track and field team. He is involved in peer mediation, the yearbook club and the Fellowship of Christian Athletes. Despite all of his school participation, he is equally involved in non-school and community activities. He participated in the Town of Normal Government Day activities, volunteers at BroMenn hospital, helps with the annual neighborhood food drive, is a bell ringer for the Salvation Army, participates in the Ken Adams junior golf league…and still finds time to shovel snow and mow lawns for his neighbors.
Family has had a strong influence in Matt's life. "My parents have been watching out for me and make sure that I have the best life possible and have set a great foundation for me," he wrote. "Because of what my parents have done for me, I understand the rights and wrongs when debating on whether or not something is a good decision. I also have a 10 year old brother who is a great joy to be around. My parents have taught us both we need to be able to get along."
His take on sportsmanship is an interesting one. In his essay he wrote: "When most people think of sportsmanship they automatically think of athletics. My guess is because the word starts with 'sports'. When I think about sportsmanship, I think about how we all handle the wins and losses that we go through in just our everyday, ordinary lives. It's not just the wins and losses that we have in athletics. No matter where we are or what we're doing, our reaction to the wins and losses of life really speaks about what kind of persons we are."
That philosophy is backed up by what he would change in the world if he had the chance. "It would be how we feel about and see each other," he wrote. "We would all see each other just the way that we are and we would never feel like we would need to put anyone down for their actions, their looks, their skin color, their faith, etc. None of us would ever feel like we were better than anyone else. If that change happened we would see each other as equal. There would be no bullying, hatred or jealousy, a lot less fighting and less selfishness in the world."
In high school, Matt will add football to his athletic participation. He will continue in the Fellowship of Christian Athletes and be in the Key Club. He has his eyes on the student council. After that he hopes to be an athlete in college and would like to study law or law enforcement.