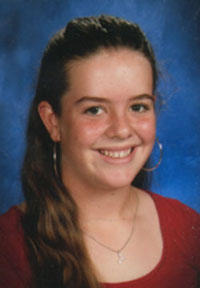 Annie O'Malley
Bloomington Holy Trinity
Principal: Mrs. Kay O'Brien
Annie O'Malley literally throws herself into her participation in interscholastic athletics and activities at Bloomington Holy Trinity School. She is the 2008 Scholar Attitude Award winner from Board of Directors Division H.
In athletics, she played on her school's softball and basketball teams. In activities, she was in chorus, the Christmas concert, the school play and a lector. Annie was an Honor Roll student in 7th grade and is a High Honor Roll student as an 8th grader.
What she is most proud of is her softball pitching and the success she has had in the sport. She was a two-year starter on the mound for Holy Trinity, recorded the second most wins in school history and had more than 200 career strikeouts. "I worked hard both years and it was fun," she wrote. "I have been pitching since I was eight. Over the years I have been traveling, practicing, playing games and working as hard as I can."
Annie would eliminate homelessness among all people if she could make one change in the world. "I don't think that it is right for any government to let children and their parents sleep outside in freezing weather, in cars, under bridges, and in boxes and tents, when we have so much to help them. It hurts to know and read that over half of the people living in the streets of the United States are veterans of the military; men and women who have courageously served our country. There are lots of old vacant buildings nationwide that homeless families could live in if we fixed them. It won't be easy but it will be a worthwhile effort. I know I can't put up a place for every person in the world to stay, but it is my responsibility to use the gifts God has given me to help His people in need. Mahatma Gandhi once said 'Be the change you wish to see in the world'."
The list of teams and activities she plans to participate in at high school is a long one. Her schedule will be time consuming, and she will receive the support of the persons she admires most. "I thought about this question for a long time and decided I couldn't choose between my parents," she wrote. "May dad is the one who has told me to set my goals high. He has told me I can do anything I want to. He has given me the will to work hard. My mom has taught me valuable life lessons. She has always been positive with me and given me encouragement like nobody else can. I couldn't count all the times she has forgiven me or understood me. I would end up writing a novel. She will always be just one step away. That I know."
Annie hopes to attend Boston College after high school and photo journalism is a field in which she is interested and would like to explore.