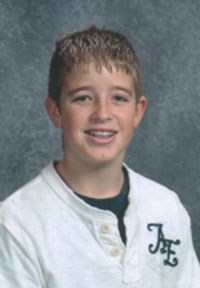 Derrick Mathy
Clifton Nash
Principal: Mrs. Victoria Marquis
Derrick Mathy is proof positive that you cannot achieve if you do not participate, and the list of his interscholastic athletic and activity experiences is a long one. This 8th grader from Clifton Nash Middle School is the 2008 Scholar Attitude Award winner from Board of Directors Division G.
But there is more to this young man than what appears on his nominee application.
For example, if he could make one change in the world he would have everyone live up to their full potential. "A lot of people waste their talent or love by not using their gifts," he wrote. "They ultimately rob the entire world of good. If everyone loved as much as they were able to, worked as hard as they could, helped as much as they were able, can you imagine the impact that would have on the world? Today's society has its share of underachievers and those people don't try to expand on their gifts. Living life to the fullest would satisfy that hunger for happiness, quench that thirst for equality and satisfy that desire for a fair lifestyle. Simply taking advantage of all the gifts we were given would make this world a much better place."
Regarding the value of sportsmanship, Derrick wrote the following in his essay: "It seems in sports today, the tremendously significant value of sportsmanship has been lost. It has become a value that is looked at as just an 'extra part of the game'. Showing bad sportsmanship can influence many different people, even those people we don't realize. Whether we like it or not, sportsmanship in sports reflects our own beliefs in real life. By becoming an athlete that showcases excellent sportsmanship now, we will be setting habits that will stay with us our whole lives. Good sportsmanship is not just what you do on the field, it is hopefully the way you live your life off the field as well."
For the record, Derrick is a straight A student. At his school, Derrick has logged three years of basketball, scholastic bowl, band and chorus. He currently is student council president. He has been in Beta Club, the Math Counts team and Team Quest for two years, serving this year as the Beta Club secretary and chair of the activity committee. He also competed in track and field one season.
He is most proud of his non-school football team winning its league super bowl. "My teammates and I would agree with me when I say we overcame a lot. What was so special about winning the super bowl was that we worked so hard to get there and the prize was one that I could never forget," he wrote.
The person he admires most is his aunt who overcame the loss of a leg in a lawn mower accident and who has been a guiding force in his life. "Feeling sorry for herself has never been part of her life," Derrick wrote. "I look to her example to get through tough times and she is always there when you need her."
Derrick plans to play football and basketball in high school, and hopes to be in student council, SADD and Team Quest. In college, he's leaning toward a major in engineering and hopes to attend Illinois State University.