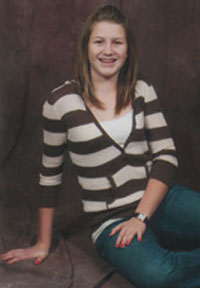 Ashlen Portwood
Milford
Principal: Mr. David Caldwell
"Do it right or don't do it at all" has to be the motto for Milford Grade School 8th grader Ashlen Portwood, the 2008 Scholar Attitude Award winner from Board of Directors Division G.
Not only has Ashlen participated in a multitude of interscholastic activities at her school, she has done so with much success. Her resume is impressive, but the feat she is most proud of is overcoming Type II diabetes. "I do not let it control my life," she wrote. "Having to deal with the disease has made me a stronger person. I know that I can deal with tough situations when they arise because I deal with diabetes in my life every day. I am very lucky to be healthy and in control of my diabetes so I have the opportunity to succeed in school and sports."
Ashlen has competed on her school's teams in softball, cross-country, basketball, volleyball and track and field. She earned Little Iroquois all-conference honors in basketball this year. This spring she hopes to improve her performance in the discus. As a 7th grader, she qualified for the IESA state meet in the event.
In addition, she participates on the speech team and is in the concert band, the jazz band and chorus. She participates in the school plays and is a member of the student council.
Ashlen excels academically. She is a member of the Academic Team Quest and has earned High Honor Roll throughout her years in school. In 7th grade she won her school's highest GPA award in reading, math and social studies. She had the school's highest GPA for the 7th grade. Twice she has been named student of the month and twice she has won the principal's award.
Outside of school, she is in 4-H and has helped to raise over $32,000 for the American Diabetes Association Walk.
Little wonder then what she would do to change the world. "Having more people respect themselves and others would be one of the things I would change about the world," she wrote. "Everyone needs to take pride in who they are and what they stand for. It starts by being content with you as a person. I would encourage people to work on areas that need improvement. This would help increase self-respect. Then by respecting yourself you can better respect others for who they are. You can't expect respect unless you have the desire to earn it by being responsible, trustworthy and genuine. By possessing these qualities it would make a difference in how people treat themselves and others."
Ashlen will play basketball, volleyball and softball and compete in track and field in high school. She hopes to be able to play basketball in college. Prospective coaches are you reading this?