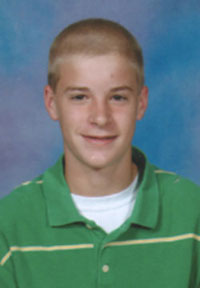 Michael Fitzgerald
Peoria St. Philomena
Principal: Mrs. Jodi Peine
Peoria St. Philomena School 8th grader Michael Fitzgerald is a young man with many talents. He is the 2008 Scholar Attitude Award winner from Board of Directors Division F.
In athletics, he competes on the school teams in soccer, basketball and track and field. He captained the basketball team. In activities, he captains the scholastic bowl team and is president of the student council. He also is on the speech team, serves on the school's Principal Advisory Board and does the morning announcements. He also is an A honor roll student.
As a leader in his school, Michael understands the role that sportsmanship plays. He writes that sportsmanship defines your character and your team's character. He captured the value of sportsmanship when he quoted the great Olympian Jesse Owens who said: "In the end, it's extra effort that separates a winner from second place. But winning takes a lot more than that, too. It starts with complete command of the fundamentals. Then it takes desire, determination, discipline and self-sacrifice. And finally, it takes a great deal of love, fairness, and respect for your fellow man. Put all these things together, and even if you don't win, how can you lose?"
Last year Michael finished 20th in the 800-meter run and 12th in the 1600-meter run at the IESA state track and field meet. Finishing 12th in the 1600 is the single feat he is most proud of because he became a competitor that day. "I am proud of this because it represents all of my hard work. I was ranked 20th before the race and moved up 8 places. It showed me that if you work to achieve you will succeed. Participating in track and in the state meet were amazing experiences. I will never forget the value of working hard to get what you want." Michael credits his older brother, the person he admires most, for instilling that work ethic in him.
Michael plans to go to college and as an undergraduate study possibly industrial engineering. Then he wants to go to either medical school or law school.