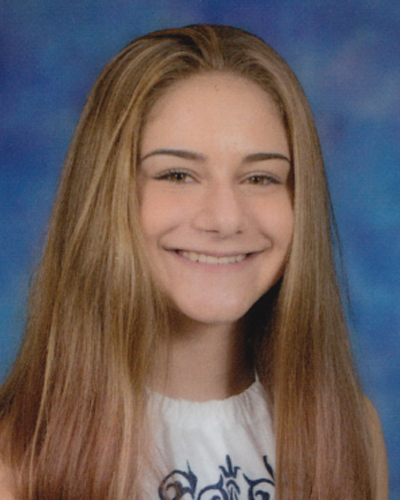 Elena DiVito
Palatine St. Theresa
Principal: Ms. Mary Keenley
Elena DiVito credits interscholastic activities for helping her develop determination, patience, and a strong work ethic. Her success in and out of the classroom has resulted in her selection as the Scholar Attitude Award winner for Board of Directors Division A.
Throughout junior high, Elena has maintained a 4.0 GPA while participating in volleyball, basketball, and track and field. An outstanding long jumper, Elena cites her podium appearance at the AAU Junior Olympics as her proudest accomplishment. Although ranked 14th in the country, Elena says she was terrified to jump in front of thousands of spectators. "I had to trust my steps and had to have the will to fight for my spot on the podium."
Not every meet has been smooth sailing, however. At the IESA Track and Field State Finals in 2017, Elena was feeling the pressure of her number one seed, and a lingering injury affected her first two jumps - among her worst of the season. Drawing upon her training, Elena shook off her nerves and jumped to a first-place finish - a new state record. "I truly believe participating in interscholastic activities prepared me for the challenge and gave me the courage and faith to compete," she says.
Elena hopes to compete for the University of Oregon after high school. With a love of both science and sports, she would like to study sports medicine. "I know what it's like to have an injury that prevents an athlete from competing," she says. "I would like to help prevent, treat, and heal injuries so players can perform at their highest potential."