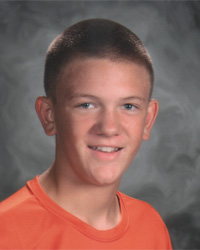 Evan Hutson
Normal Parkside
Principal: Mr. Dan Lamboley
Evan Hutson attributes the confidence he has gained in interscholastic activities for having a positive impact in all aspects of his life.
It is because of his leadership mentality, positivity, and strong work in the classroom that Evan was selected as the Scholar Attitude Award winner for Board of Directors Division H.
Evan is most proud of his seventh grade basketball team's ability to come together at the right moment. In his first year as a starter after his team previously won an IESA state championship, they struggled with frustration and tough losses. However, at the right moment the team united and went on to an undefeated postseason and another IESA championship.
Evan recalls, "We took our fate into our own hands, and made sure that we would always give our best effort – no matter the score. I am most proud of our self-imposed, proactive attitude that got us through the postseason undefeated. The state title was just a bonus."
Post high school, Evan plans to attend John Hopkins University to major in Biomedical Engineering.