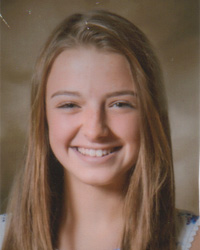 Emma Kurtenbach
Gibson City GCMS
Principal: Mr. Jeremy Darnell
Emma Kurtenbach has used courage in important game moments and in stressful situations to remain determined and positive. She translates that mentality in the classroom and on the basketball court.
Her character and strong academic success has earned Emma the Scholar Attitude Award for Board of Directors Division G.
Emma, who also plays tennis, is inspired by her Grandpa's energy and love of tennis. She considers him the person she admires most, especially after he beat cancer a year after being diagnosed. Emma notes, "Throughout his treatment, the thing that made him feel normal and happy was playing tennis every day. I have never admired someone so much as my [Grandpa] as he fought to stay as strong and as healthy as he could during the hardest time in his life."
She used similar strength and courage to help her and her teammates to a third-place finish at the IESA girls basketball Class 3A state championship. With a few seconds left in the game, Emma completed a three-pointer to send the game into overtime. Her team ended up winning by three points.
After high school, Emma hopes to attend Colorado State University, focusing her studies in the medical field.