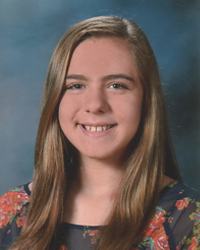 Emma Konczyk
Lincoln West Lincoln-Broadwell
Principal: Mr. Bailey Climer
After learning she had hypermobility disease, Emma Konczyk was faced with the decision to take a break from sports or work hard in physical therapy and strengthening to continue to play the sports she loved.
Emma, the Scholar Attitude Award winner for Board of Directors Division I, chose to work hard and not give up. She translates that attitude on and off the court as a straight A student and athlete in basketball, volleyball, and track.
Emma is most proud of playing in the first Junior High Girls All-Star Basketball game with 19 girls from around the state.
"I am most proud of reaching this highlight because I did experience a lot of injuries throughout my basketball career," Emma said. "There were times when I wasn't sure if I would be able to play the next game and it took a lot of patience, hope, and physical therapy to keep me healthy and able to play. To end my Lady Wolverine career on such a high note was a true honor."
In the future, Emma would like to earn a college scholarship to study sports medicine. Her top school choices are the University of Southern California, the University of Illinois, or Northwestern University.