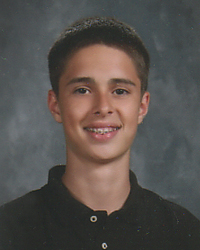 Anthony Flanagan
Dunlap MS
Principal: Mr. Zac Chatterton
Throughout middle school, Anthony Flanagan has learned the true meaning of sportsmanship and respect both as an athlete and student.
Anthony, the Scholar Attitude Award winner for Board of Directors Division F, exemplifies excellence in the classroom, in interscholastic activities, and beyond.
A setback during Anthony's seventh grade track season taught him the true meaning of sportsmanship. Right after learning his relay team qualified for sectionals, he broke his foot.
"After getting over the initial disappointment, I decided that this was a true test of my sportsmanship," Anthony said. "I chose to still continue to attend practice and to cheer on my teammates as well as the runner who took my place on the relay team. I believe that participating these last two years in interscholastic activities and learning the importance of teamwork helped me get through the injury."
After experiencing orthopedic surgery first hand, Anthony plans to study medicine in college. He is interested in Notre Dame, Indiana University, or Duke.