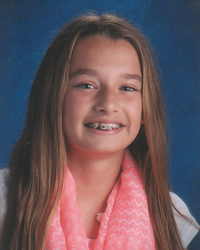 Gabrielle Terselic
Ingleside Big Hollow
Principal: Mrs. Christine Arndt
Gabrielle Terselic is not one to settle for anything less than her best. She values discipline, hard work, and sportsmanship as a basketball, cross country, and track athlete.
Gabrielle has translated that attitude and values to a successful academic and interscholastic career throughout seventh and eighth grades - proving her to be the Scholar Attitude Award winner for Board of Directors Division A.
She feels that her mother's influence has encouraged her to have a strong set of values and set lofty goals. She recalls, "My mom has gone back to school and has completely changed her career while raising three kids because she chose not to settle. She chose to help others. I want to help others. I believe these traits will help me succeed for the rest of my life, and I owe it to my mom."
Gabrielle is most proud of qualifying for the IESA Cross Country Finals as an eighth grader. She notes, "Prior to eighth grade, our school never had a cross country team and I had never run a cross country race. I was able to qualify for the state finals because I used the attitude my mom taught me to push myself."
In the future, Gabrielle aspires to attend medical school to become a pediatric oncologist.