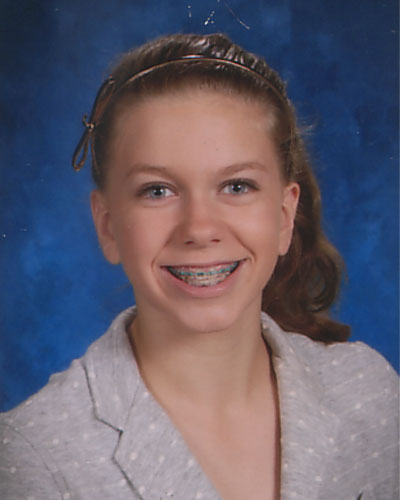 Jessica Rose
Villa Grove
Principal: Mr. Marke Hatfield
Time management and good sportsmanship are two values Jessica Rose has learned throughout her seventh and eighth grade years while competing in girls basketball, track, scholastic bowl, and solo & ensemble contest at Villa Grove Grade School.
"Through basketball and other sports, I have learned good sportsmanship," Jessica wrote. "I've also learned to be a team player and to respect my teammates and coaches. I most enjoy being part of a team that works together to support each other and be successful."
One instance of team support that Jessica personally experienced is when her grandfather passed away during her seventh grade basketball season. While it was a difficult time, she valued the love, support, and encouragement her teammates and coaches showed her.
While Jessica aspires to be a great teammate and an example to her peers, she also realizes the importance of education – a view her mom stresses for Jessica and her sisters. Jessica has maintained a perfect 5.0 GPA the past two years, helping her win the 2014 Scholar Attitude Award for Board of Directors Division L.
After high school, Jessica would like to study music with hopes of becoming a music teacher or music therapist. As someone who plays guitar, piano, clarinet, and sings, she wants to share her love of music with children.