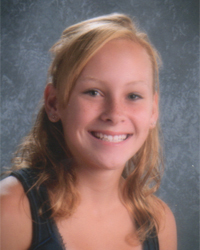 Kalee Childress
Robinson Nuttall
Principal: Sue Catt
Kalee Childress is proud to have set a school record at the state track meet in the 4x200 relay and to have her name etched on the record board at Robinson Nuttall. She is equally proud to have earned a starting position on the volleyball team. But she knows both accomplishments came from one thing: hard work.
"Improving is a building process that requires skill and hard work to achieve," Kalee says about how her relay team got to that amazing record. And as for volleyball... "In 7th grade I was not a regular starter on our team. I was very frustrated with this at first because I thought I was working hard in practice and deserved the starting position. Participation in interscholastic activities taught me that my perception of hard work was not enough. It pushed me to dig deeper within myself and find that I did have more to give the team."
She attended camps, practiced, practiced and practiced some more. She tells us, "When the 8th grade season started, I felt a true sense of pride when my coach told me I had earned the starting position."
The 2012 Scholar Attitude Award recipient from Board of Directors Division N, Kalee has competed in cheerleading, volleyball and track and field in both 7th and 8th grades, and she participated in student council and speech club both years as well. Her 4.0 GPA has earned her High Honors every year at Nuttall Middle School.
Outside of school, she has competed in competitive tumbling for six years, winning three state championships and coming in 2nd nationally twice. Kaylee has also participated in competitive cheer team for seven years and was a member of the Midwest championship team in 2010.