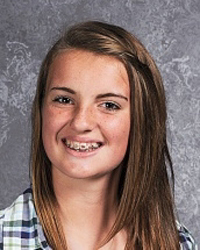 Sarah Megazzini
Yorkville
Principal: Jeff Szymczak
Named "Player of the Year" on an undefeated soccer team, High Honor Roll every quarter through middle school, team captain in cross country, and now winning the 2011 Scholar Attitude Award from Board of Directors Division C... It sounds as if Sarah Megazzini has sailed through her life, excelling at everything she tries. But it hasn't always been that easy.
"I was diagnosed in May of 2005 with type 1 diabetes," Sarah writes. "Throughout the five and a half years, there have been many instances when I feel like giving up and I doubt myself." Following the example of an unlikely hero, Nick Jonas of the Jonas Brothers, who also has struggled with type 1 diabetes, Sarah has decided, "It's times like those when Nick can help me get through it. I am able to step back and say, if Nick can live his dream of being a rock star, then I can achieve whatever I set my mind to."
Already, Sarah has achieved a lot. There's that "Player of the Year" for her travel soccer team, a perfect 4.0 in 7th grade, advanced classes at Yorkville Middle School in six different subjects, running cross country and being named an alternate on the state cross country team, playing basketball and soccer, earning "Character Counts" awards for her fairness and responsibility, participating in Peer Leadership, singing in the Beau Chant Choir, volunteering at the food pantry, and helping out at a 1st-through-6th grade soccer camp in her spare time.
Sarah is looking forward to playing soccer and joining the choir in high school, as well as adding tennis, National Honor Society and student council to her schedule. Her dream is to attend the University of Wisconsin and to become a dietician and nutritionist so that she can help other kids with diabetes.