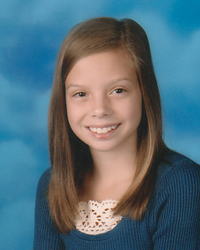 Clare Murphy
Orland Hills Bernardin
Principal: Ms. Mary Iannucilli
For Clare Murphy, 2010 Scholar Attitude Award winner from Board of Directors Division C, her experience as a cheerleader at Orland Hills Bernardin has helped her go "full-up" and "full-out."
"The one feat that stands highest in my life thus far is winning the 2009 IESA State Cheerleading Championship," writes Clare. "There were many people who thought our team would not be able to repeat our memorable 2008 state champion performance." After all, other teams were getting better, three key members of the 2008 squad had graduated, and Clare herself had been struggling with the skill known as a "full-up."
"I knew that if that stunt hit perfectly, it would set the tone for the entire performance," Clare says. She was right. The "full-up" went beautifully, and Bernardin ended up with back-to-back championships.
In addition to cheerleading, Clare has been a member of the student council, National Junior Honor Society, academic team, math club, and Cardinal Joseph Bernardin Academic Enrichment Program, plus she has served as junior coach for the JV cheerleaders. She's made honor roll every quarter and she's earned awards in several science and academic competitions. She also takes piano lessons, volunteers at Shepherd's Table, the Grasslands Seed Project and Respond Now, and is an altar server at St. Elizabeth Seton Parish.
Clare plans to attend St. Ignatius College Prep, where she looks forward to cheerleading, the Ignatius Volunteer Corps and the National Honor Society. After that, her goal is to attend Notre Dame University to pursue a career in medicine.