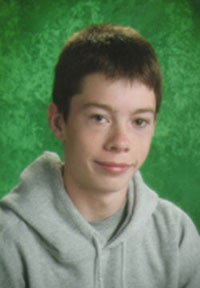 Michael Simon
Springfield Ball Charter
Principal: Mrs. Nicole Nash-Gales
Springfield Ball Charter School 8th grader Michael Simon finds inspiration in the words of Michael Jordan and Steve Prefontaine, perhaps America's best ever athletes in basketball and distance running, respectively. He loves to run and he loves to learn. He is the 2008 Scholar Attitude Award winner from Board of Directors Division M.
This past fall, he was the IESA Class A state cross-country meet individual champion covering the course in 10:56. These words of Michael Jordan have resonated within him: "I can accept failure. Everyone fails at something, but I can't accept not trying." And when he trains and competes, these words of Steve Prefontaine surely motivate him: "To give anything less than your best is to sacrifice the gift."
He notes that his state title is his greatest feat thus far. "Winning the state cross-country title this past year was the most amazing experience of my life," he wrote in his nomination application. "I trained so hard during the summer because I knew I wanted to have a special cross-country season."
Michael's athletic career includes basketball, cross-country and track and field in 6th grade then cross-country and track in 7th and 8th grade. He captained the cross-country team this year. Last year in the IESA state track and field meet he finished 9th in the 800-meter and 1600-meter runs.
In 7th grade he was in Beta Club and on the scholastic bowl team. This year he is in Beta Club and the technology club. He is a High Honor Roll student. He also is, in his own words, "dyslexic and not a very functional reader or writer."
"Technology has been a vital part of how I learn each and every day at school," Michael wrote. I have to rely on two important software programs, Kurzweil (a text scanner and study skill program) and Dragon Naturally Speaking (a voice recognition system for writing). If I didn't have these two software programs I certainly wouldn't have achieved high honor grades or have been able to keep up with the higher track students in my class. When I join the high school tech club I plan on sharing my use of technology with other dyslexic students."
The people Michael admires most are his parents. Of his mom he noted: "When I wasn't able to read as well as my classmates, my mom went up to Chicago and she took an entire year to learn how to read using the Orton-gillingham approach. So from 3rd grade until 5th grade my mom came to my school 4 times each week to teach me how to read."
Michael would put an end to cancer if he could make one change in the world. "Cancer is a huge problem in our world and it is increasing. Statistics show cancer will increase by 50 percent by the year 2020, adding 15 million new cases. With all the great scientists in the world we should have the ability to find a cure for cancer."
At Springfield High School, Michael will participate in cross-country and track. In addition he will join the Key Club and the spirit club. After high school, he wants to learn and run at the same time. His career path involves criminology, including the FBI. He's zeroing in on Michigan, USC and Oregon as schools he would like to attend.